WELCOME TO KNOCKSVILLE
Welcome to Knocksville. It's a real place, but it's not a location on a map. The best way to get there is to search deep inside your chest. It's the heartbeat of America's pastime. It's part of your DNA. It's a place to dream big, embrace the grind, own your edge, and share the love of the game. It's where dirt on white pants is good, bruises are good, and where life's best lessons are learned. It's where you turn fury into fire, excuses into execution, whining into winning, and grind into grand slams. It's taking a simple game with a ball and a bat and turning it into a way of life.
It's community. It's family. It's where the game knocks you down, and the KnockNation picks you back up. It's what you look for in others. It doesn't matter where you came from. All that matters is that you made it here. Now you've found the place. Now you're in rhythm. Feel the beat in your chest. Knock! Knock! You're in Knocksville.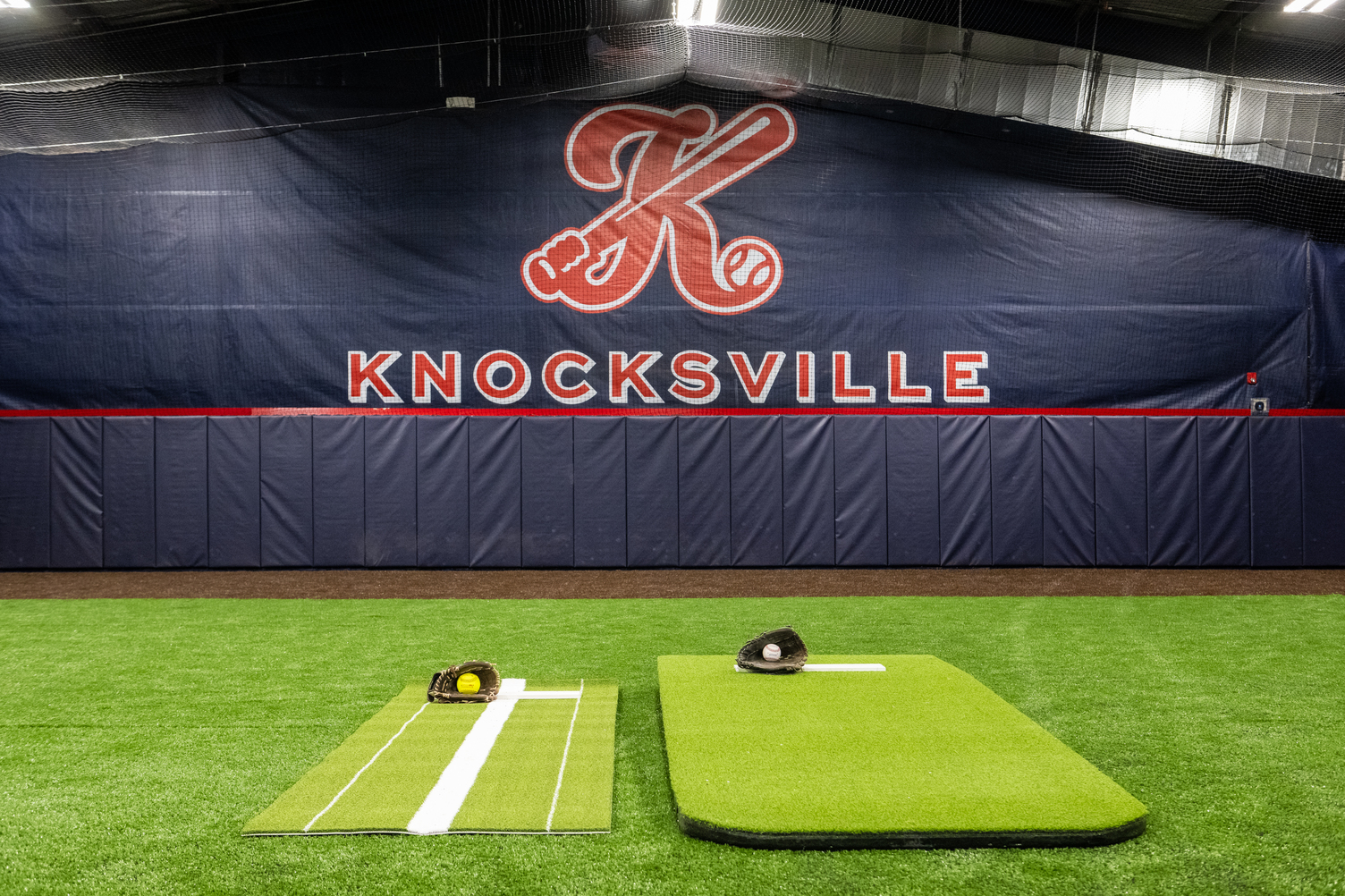 Our Community:
Knock Nation
knock /näk/verb
To strike something forcefully, an aggressive collision.
na·tion/ˈnāSH(ə)n/noun
A large body of people united by common culture or interest, inhabiting a particular territory.
Knock Nation
A community of baseball and softball teams, players, and families united by the love of the game. A diverse community that values teamwork over individualism, people over process, and relationships over results. A healthy and positive culture is not only encouraged, but expected and required.
Players of all ages and skill levels are welcome at Knocksville. Members are committed to helping others reach their goals while striving to reach their own.
We are family. We are community. We are the Knock Nation.
Our Philosophy:
Own Your Edge
Knocksville's training philosophy centers around one statement: Own Your Edge.
So what does it mean to "Own Your Edge"?
Your edge is your advantage. Your specific skill set that puts you, and your team, ahead of the game. It's the cycle of turning hard work into confidence, and confidence into success.
We take a holistic approach to training, designed to equip players both mentally and physically which will help them reach their full unique potential on and off the field.
We believe everyone has an edge – and our goal is to help you identify, develop, and own it.
Coach Heard grew up in Littlefield, TX, and has 21 years of coaching experience. He has been the head baseball coach at several programs in the Lubbock area and led Idalou to their first state tournament appearance in 2014. In addition to his coaching experience, he also played baseball at Wayland Baptist University.
Heard brings a wealth of leadership experience that extends beyond the diamond. He has been involved with FCA for over 19 years and now serves as an Ambassador for the East region of the South Plains FCA.
As the Director of Training at Knocksville, Heard is excited to bring his coaching and FCA experiences together to implement a holistic training culture designed to help players reach their full potential. Knocksville's DNA is to dream big, embrace the grind, own your edge, and share the love of the game. He hopes to establish these qualities into the community of baseball and softball families in and around the Lubbock area.
Heard is married to April and they have 3 children, Bo (19), Logan (17), and Jude (11).
Strength: Catching, and Hitting
12yrs of playing experience
Led Allen High School in Homeruns (14) her sophomore year
Coached 12u, 14u, and 16u, for TCA (Texas Christian Athletics)
Strength: Strength: Catching, and Pitching
3 time All-District Catcher at Iowa Park High School
2018 District Defensive MVP
NCAA D2 Regional Finalist and Heartland Conference Champion at Rogers State University
Strength: Strength: Pitching, and Catching
3-Time Lone Star Varsity Super Team 1st Team
Represented America's Team in Italy in summer of 2016 under coaching of 3-time Olympic Gold Medalist Leah O'Brien-Amico (2016)
Collegiate Student Assistant Coach
Strength: Pitching, and Hitting
Lone Star Varsity Athlete of the Week 2020
Led the state of Texas in strikeouts for the 2020 season
Newcomer of the Year 2020
Strength: Pitching, and Hitting
2019 TAPPS First team all district
2019 TAPPS Pitcher of the year
2021 All american scholar at Southwest Tennessee CC
Strength: Strength: Hitting, and Catcher
Honorable Mention All-State Catcher 3A
HPU Hitter or the Week 2022
Currently in Independent Pro Baseball and Coach for the Burkburnett Blacksox
Strength: Pitching, and Catching
1.731 ERA overall as a Junior at Alamo Heights High School
San Antonio Senior All Star team
Played Baseball at The University of Dallas in 2021
Strength: Pitching, and Hitting
Played on the Texas tech club baseball team for the last 5 years
Won The Woodwars annual fall tournament against 20 college club teams
Currently a Texas Tech club baseball Coach while getting his PhD at Texas Tech
Strength: Strength: Hitting, and Fielding
All District First Baseman in High School
Collegiate Student Coach
3D Coaching certified
Strength: Pitching, and Fielding
2yr 2-way player at Centenary College of Louisiana
2018 New Mexico 5A State Champion
Strength: Catching
2yrs of college Baseball at Odessa College
Currently, Trinity High School Head JV Coach
3D Coaching Certified
Strength: Strength: Hitting, and Fielding
4yr Varsity player in High School
3x State Champion at Lubbock Christian High School
2yrs of College Baseball at Wayland Baptist University
Strength: Pitching, and Catching
Pitcher @ Wayland Baptist University 2003-2008
Great Lakes Collegiate League 2007
Lubbock-Cooper ISD Coach 2013-2017
Strength: Strength, and Conditioning
Head Strength and conditioning coach for Texas Tech Softball and assistant strength and conditioning coach for Texas Tech Baseball
Assistant strength coach for Olympic Sports at Texas Tech University
Programs for multiple semi-professional and professional baseball players; most notably Josh Jung and Jace Jung
Strength: Pitching, and Hitting
9yrs Coaching High School Softball
Coached multiple players who were recruited and currently play collegiate softball
NCAA D3 Athlete
11717 INDIANA AVE
LUBBOCK, TX 79423
Mon - Fri: 3:30pm - 9pm
Sat: 10am - 6pm
Sun: 1pm - 6pm